O.K., so here it is!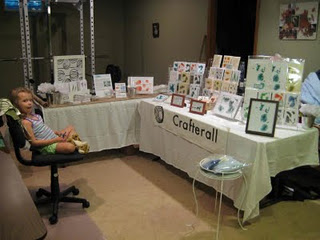 Leah, my number one fan, is modeling it, and hanging off the chair she's in is the apron I made for the event. Of course, there will be a canopy over the top and we'll most likely have the sides up with the 70% chance of rain (and thunderstorms - shhhhhh) prediction. I'm also going to hang a big, framed "Retro Poppies" papercut as well as a smaller, framed Topo piece for a little more vertical interest. But basically, this is how I think it will look. The Crafterall banner will be on the front of the tent once I figure out how to do so, and I'm still not sure where that little plant stand table will go.
Here is the table with the topography and art card pieces. There's a basket of one-of-a-kind items, and tiered displays of various cards that I will re-load as necessary. On the little easel, there's a single open card for some tactile interaction. At the recommendation of the some wonderful Etsy folks, this guy is out for folks to touch, open, and drool over. ;)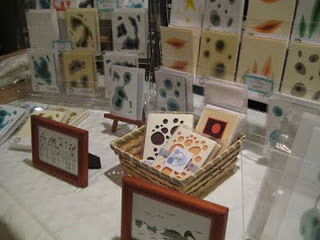 This is the "flower" side of things. I found the white memo-station thing for a quarter at a garage sale and re-fitted a ribbon board in the flat space. Got lucky with the three front pockets as they are the perfect size for the cards!
As an Uptown Market Exclusive, I'll be selling papercut topographies of the popular Minneapolis Chain of Lakes (Twin Lakes, Brownie Lake, Cedar Lake, Lake of the Isles, Lake Calhoun, unnamed swampy area, and Lake Harriet). I hope these will be a hit with the local crowd.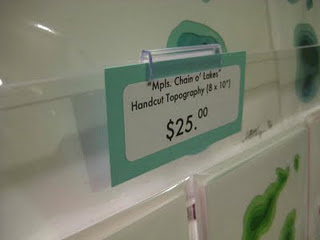 Behind the scenes, I've got my credit card imprinter with slips, a hole-y box (50 cents in the IKEA as is section) for pens, and plastic bags for purchases. I've got a load of business cards, logo-rific postcards, and hard candy to hand out too.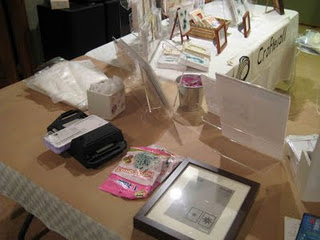 I'm still undecided about using the kraft paper over the white tablecloth. I like that it sets off the white of the cards, but worry that it cheapens the look, and I'm not sure it will hold up in the forecasted precipitation. What do you think?
The reality is solidifying and I have my booth number assigned! I'll be representin' in booth #45, just west of Bryant Avenue. If you're in the neighborhood, please stop by for a hug!