---
The most beautiful art piece I've ever bought!
---
Such a beautiful custom, timeless gift! We are so pleased with the map! Marnie went above and beyond to create a custom map for me. She was responsive and thoughtful with her suggestions and produced and shipped the map quickly and before the Christmas holiday. Thank you so much for your beautiful craftsmanship! Highly recommend.
---
.•**•.•**•.♥️♥️♥️ Were do i start? Marnie is a dream to work with. She went out of her way on my very detailed project for my husband, one of his favorite fishing areas, and where he just bought a lake house he has wanted his whole life. I had no idea what i was asking her to do with all the tiny little creeks and run-offs that were on the map. She is so dedicated and detailed and wasn't giving up until she had it perfect. When it came in the mail to me i was just shocked at how pretty and PERFECT it is. I immediately started trying to think of another project. I just want another one! Please don't hesitate to buy & communicate with this shop, she makes it so easy and takes control. You will be happy. Thank you Marnie!!! .•**•.•**•.♥️♥️♥️
---
We received a BEAUTIFUL piece, so well packed! And exactly as promised. So grateful for the quality of this work!
---
Such an excellent experience! Working with Marnie, the shop owner, was wonderful. She took the time to work with me to create a custom piece and kept me informed at every step. I was so pleasantly surprised at how quickly she responded to everything and also created and shipped the picture out to me a lot sooner than expected. If I could I would give Marnie 10 stars. Don't hesitate to make a purchase, you will absolutely love her creation.
---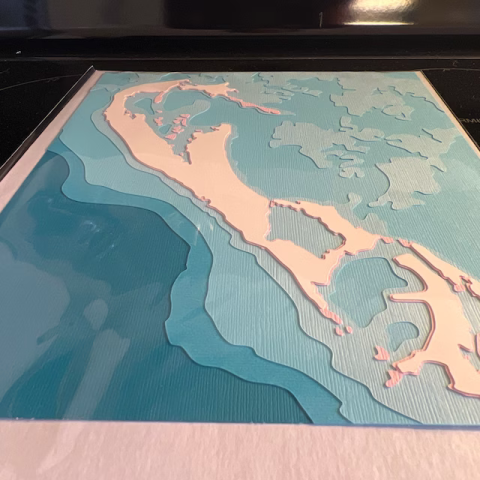 Absolutely the coolest and most precise depiction of what we discussed, a fun collaboration and such a great finished product. Can't wait to give it to my friend who grew up in Bermuda!
---
Absolutely beautiful custom piece, great communication, it was completed and shipped so fast I could not believe it!
---
It's beautiful! As a paper crafter myself, I can truly appreciate the effort it takes to cut and assemble a piece like this. Love celebrating where I live with something to pretty and special. :)
---
Another hit! Marnie is so easy to work with, the quality is fantastic, the process is smooth and fast, and I couldn't recommend her more.
---
I love my stunning art piece from Marnie. She communicates quickly and easily which led me to purchase another art piece within 24 hours. Securely packed with attention to detail and super fast shipping. Thank you, Marnie!
---
Absolutely stunning! I'd been admiring this piece online for almost a year, and I finally treated myself. The craftsmanship is amazing, and I've never been so excited to look at something every day! I highly recommend and plan to return to purchase other pieces as gifts.
---
Exceptional process, lovely results. I will absolutely return for other work. The conscientious communication with this artist stands out among the best moments I've ever had with an artist, or making purchases online. When you imagined how an idealized Etsy might work? You imagined this experience. A quick recap in this space would say that I immediately received detailed feedback about my order; because someone had previously ordered something similar, I was offered a significant discount; the artist showed genuine interest in and familiarity with the subject of the art; we worked together over a couple of days' worth of messages to customize details; and throughout, I really just thoroughly enjoyed working with this person. The results, too, were outstanding. I recommend others choose this. Truly.
---
I was so happy that Marnie was able to accommodate my custom location, and the piece turned out incredibly. As many other reviews have mentioned, communication was excellent throughout, and I was comfortable that the piece would turn out just as expected with the conversation about the precise location, what features to emphasize, and the overall design. The piece was shipped quickly and very carefully packaged. My gift recipient is over the moon. Thank you!
---
I ordered a custom piece from Marnie, and not only was she incredibly helpful, nice, and easy to work with, when the piece arrived it was so much more beautiful than I had ever hoped for. Absolutely gorgeous work.
---
This is my new favorite art piece of my favorite place in the world -- the lake! Marnie is easy to work with and her craftsmanship is incredible! I loved it so much that I'm ordering more as Christmas gifts for my family.