I know, I know, I really should be working on building up my inventory for the final Uptown Market this Sunday. Or, I should be adding new pieces to my dwindling stock in my shop. Or, I should be making prototypes of season-based pieces from the sketches I've drawn. But, I've been having way too much fun working on some very cool custom pieces.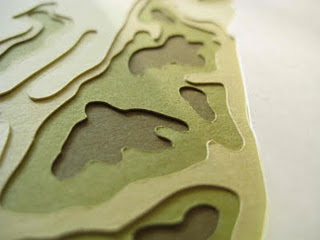 The first one is a "downward" topography of Joshua Tree National Park in California. It is to be a wedding gift from the bride to her groom. I think this piece ended up with a perfect blend of accuracy and abstraction.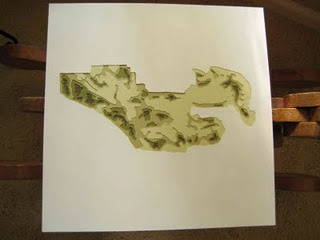 The next custom request was a fun and challenging project that involved incorporating maps from various games into five separate yet similar 12 x 12", topographic pieces. I've never before used anything other than my own stash of cardstock, so working with/around/through the maps sent to me was a go at something new.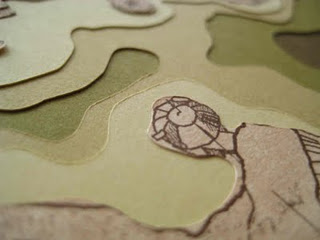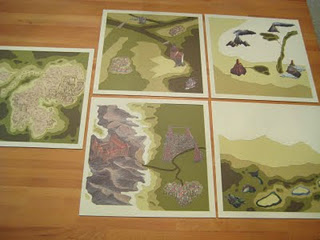 I also made a custom collection of topographic card sets in the shape and depths of my hometown lake, Lake Bemidji, in northern Minnesota. They turned out really well, and I was so excited to send them off that I forgot to take pictures of them. Ah well.
When starting a custom project, I really try to make sure I understand what the project means to the buyer and I try to get a clear description from them as to what they're expecting the piece to be. When the piece is complete, I still hold my breath a little each time I notify the buyer, hoping that what I've created is close to if not even better than what he or she had in mind. And when I get glowing feedback from the patron when all is said and done, then I feel awesome about the whole thing!
I keep a small blackboard in my studio. This is where I write my custom orders, what they are, and when I promised them to be complete. Currently, it's a blank slate. And even though I have so many things I should be doing as I mentioned earlier, I get a strong urge to ask the world, "What's next? Whatchya got for me?"