Yo!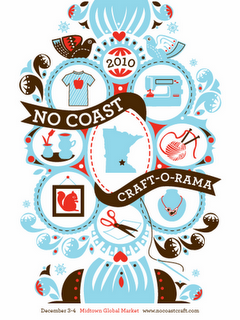 Let the countdown to mass craziness begin, baby. Here's all you need to know:
What: No Coast Craft-o-Rama
When: De-cem-ber 3rd & 4th
Where: Midtown Global Exchange building in Minn-e-apolis
Who: Craft-er-all and a boat load of some of this region's coolest artists and handmade geniuses
How Much: How much you got? ;)
Seriously, I'm psyched and totally inventory deficient. Going to stock up first on some bulk "Midnight Oil" so I can burn the heck out of it.