The requests for custom pieces continue to roll in and have been my "bread and butter" lately. Each one is a new challenge that helps me to learn about places on the map as well as new techniques to render those places. Here's a look at some of the latest custom pieces I've created.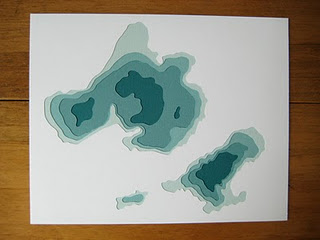 I was thrilled to recreate the lakes I lived nearly for nearly 9 years: Mendota, Monona, and Wingra in Madison, Wisconsin. The heart of the city of Madison, the state's capital, sits in the middle of the isthmus between these two sister lakes. Just before we moved back to Minnesota, Madison adopted the tag line "Madison: Lake, City, Lake." Clever, huh?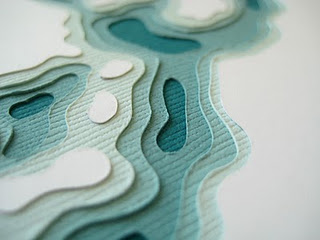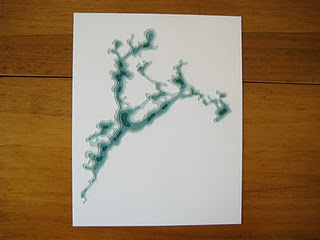 Two big trends have emerged in my latest batch of custom requests: islands & Canada! The close up above and the piece beside it is my version of the Lake of Bays in Ontario, not too far from where my hubby I honeymooned. What a gorgeous area!
Only an hour and half away lies the equally "Swiss-cheese" like body of water known as Lake Joseph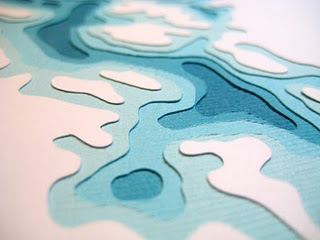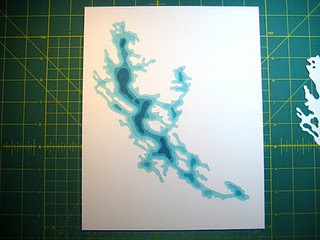 Man, do those prehistoric glaciers know how to tear it up, or what? :)
Taking the cake for "most timely" request is one of the Vancouver area. It was neat to work on this piece while the Olympics were taking place.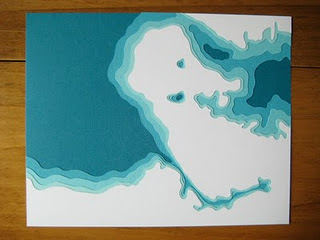 Not quite into Canada, but following a similar shape pattern is the lovely and historic Lake Champlain that sits between eastern New York and western Vermont.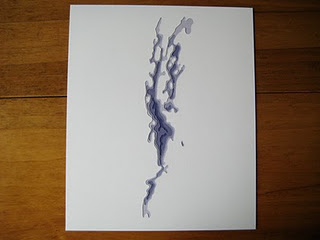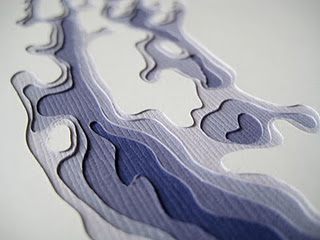 This request came with a color set I haven't used in my own topographies but looks stunning none the less. Yes, you can order a topography to match your walls, or get close anyway.
I made another piece in this color set about a week prior and the colors were specifically chosen to pay homage to the vineyards on Martha's Vineyard: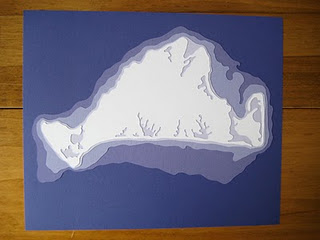 I worked on my first couple of 8-layer custom requests. One for the very real and beautiful island of St. Thomas in the Virgin Islands: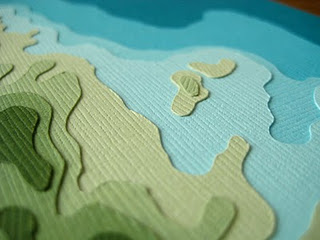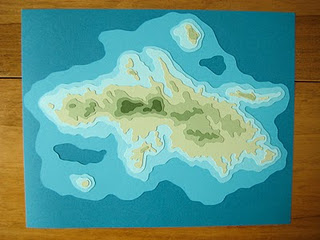 And one for the very surreal and lovely Never Neverland from Peter Pan!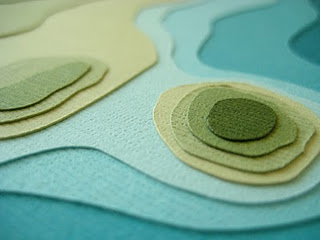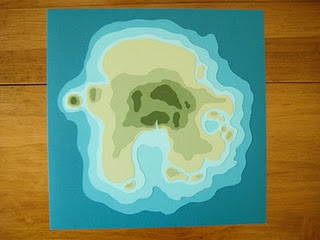 Another island I conquered is that of Mumbai, India. I had no idea it was an island as it's barely cut off from the mainland by a river. Per the patron's request, I didn't feature any of the nearby land to accent the specific island region, and I added a star next to her hometown.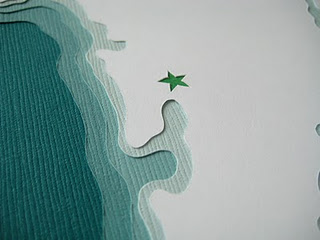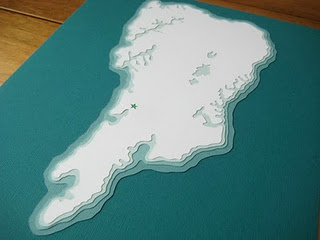 Below is a piece representing Samish Island in northwestern Washington. This island used to be an actual island, but after dikes were erected the land bridge emerged turning the island into more of a peninsula. The buyer of this piece described the area's lush flora and fauna to me in her request and it made my lust to visit Washington even greater.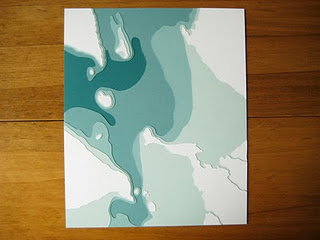 The most complicated custom piece I've created so far is the piece I made of the Savannah, Georgia delta area, as part of a three-piece, custom-color set. Once I wrapped my mind around the idea that I was cutting out islands rather than trying to cut out the inlets, the process somehow became easier. Well, a little bit. It was a labor of love and I'm quite pleased with how it turned out.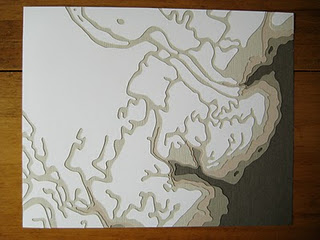 The other two pieces in the set were one of Chicago, seated at the southwestern corner of Lake Michigan, and Manhattan, with it's famed bridges connecting everyone to "where it's at." I'm not certain, but I think the Manhattan piece might be the first piece I've made where I've included bridges.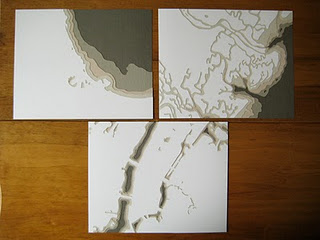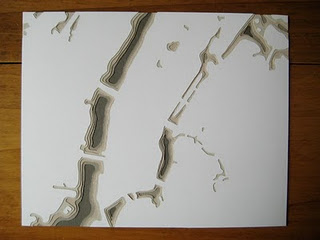 There's a three-way tie for my favorite custom pieces of the last two months. In no particular order the first one is this 12 x 12" piece of the chain of lakes near Fairmont in southern Minnesota.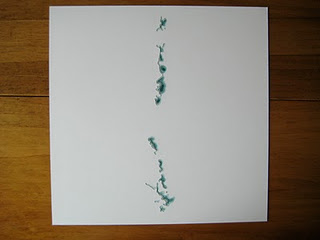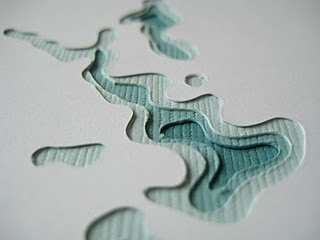 Because I was taking in such a good chunk of land as my subject, the scale of the lakes was quite small and it was tricky moving the blade in such tight little curves. Overall, I really like the abstract look of it. It's the sort of piece that, when framed and on display, someone might say, "My, what a unique piece of art," whereupon the owner of this piece proudly exclaims,"It's a hand cut recreation of the chain of lakes near where I grew up." And to this the first person gasps excitedly and is left speechless at the wonder of it all. *cheese* ;) In short, I like it because, to me, it is both cool art and cool geography.
Second is this piece of Cape Neddick in southeastern Maine. This may be the first coastal-centered piece I've made and I really like the overall composition of this piece and the high contrast between the stark white on the left and the deep aqua on the right. And the cut of the ocean into the land is killer.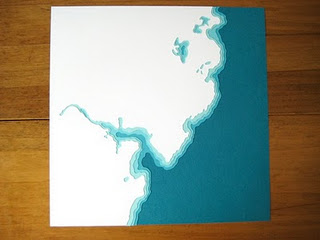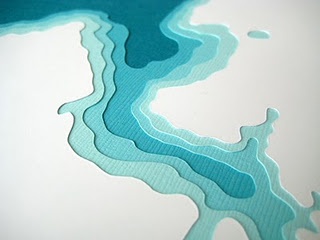 Finally, there's this piece. A piece made of custom colors chosen to represent striations of land as from erosion. I don't think I would have thought of this on my own, and the colors together seem to brighter and stronger than the sum of their parts. Yet another reason why I love making custom pieces.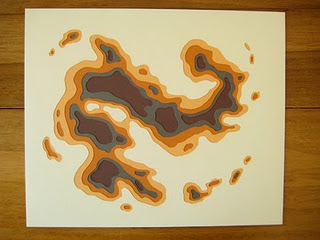 As my work and techniques continue to evolve, I hope you'll see some of the details in these custom pieces in my non-custom work as well. I love my job!