Yay! Back to back Saturday Craft fairs are done! The HandmadeMN Spring Market was fun! Everyone's tables looked great and there was a fairly steady stream of shoppers all day. It was neat to have awesome music throughout the day thanks to Kelly of Kellybot and her love of The Current's playlist. A couple of times throughout the show, Kelly and I made eye contact from across the room and exchanged "rock horns" and head bobs in appreciation of the tunes. It was so cool to be there with other team members to represent our talent-filled state. I have to say that we represent very well indeed!
Closest to me were the lovely and genius Regan of Regan's Brain, and the very sweet Lindsay of Skylark Dawn who was kind enough to donate some of her bendy wire and paper hearts for Leah to craft into wearable art.
A special shout out to the gorgeous and wonderful Andrea of Sacred Suds who took this photo of me at my table. Andrea makes delicious smelling soaps with a keen awareness and use of natural ingredients.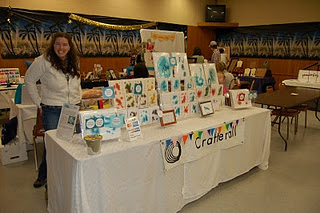 If you look carefully at the photo, you can see Leah's head peeking out of the right side of the farthest card display. Once again, she was a good companion, although this time she focused a bit too much on what she might get as a "treat" for working with me rather that be a good sport for the heck of it. She ended up with a smashing little ring from Toni at Wild Dog Studio. Still, it was great to have her company and conversation throughout the show and she was a superb helper as we set up and took down.
What's next? Not sure. Nothing on the horizon for the immediate future, though not for lack of opportunity. I've been invited to some fab events and have my eyes on a few of them for a bit later in the summer. In the meantime, I'll continue to update the shop with some new pieces and hope to add even more custom pieces to my repertoire. So stay tuned, and relax. :)