Tomorrow -- YIKES! TOMORROW ALREADY! -- is the first annual HandmadeMN Team Spring Market!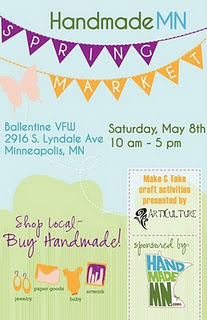 It's going to be awesome. Our very talented and productive Etsy team has been working very hard to make this one kick-ass craft show. There will be forty vendors selling all sorts of cool things as well as some hands-on demos and a fun contest to enter as well. See a list of all the vendors and read all about the event here, by clicking here, or on our poster!
Again, if you're in the area, please stop by -- it's going to be too cold for anything but shopping!