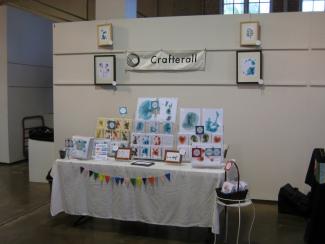 The St. Paul Craftstravaganza was a blast! It was my best show so far and everything went very well. There was a steady stream of shoppers all day, and for every sale I had, I received about 4 or 5 "Wow"s or "Beautiful"s or something sweet along those lines -- how cool!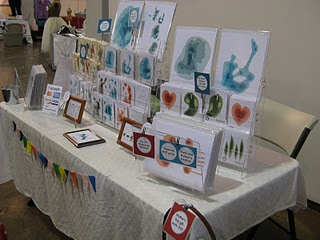 See that little framed piece lying flat toward to the front of the table? This is a framed piece without the glass, and with a little note that says, "Touch Me!" My second favorite part of the day was watching the expression on people's faces when they read the note and followed the instructions. So many "Oh!"s and "Ooooo"s and smiles too! Too many people easily mistake my colorful work for two-dimensional prints, and it's important for me to show them that each piece is hand cut and layered. I think this small, framed piece does the trick pretty well.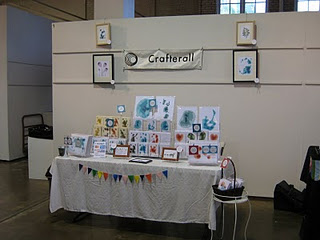 I had other pieces framed (with glass) for sale and to show off how good they look when matted and framed nicely. The indoor show allowed me to hang these pieces without worrying about the wind blowing them around or other weather effects. My banner (hand stenciled and sewn from a window blind remnant) looked far less impressive and has since sparked all sorts of bigger and better ideas in my head for next year or perhaps later this summer. There were so many outstanding booths there this year -- many craft show veterans who really know what they're doing and how to put together a shopper-stopper display. They really put mine to shame, but I'm o.k. with that. I can only get better, right? I have to say that I love my little felt banner hung on the front of my table -- such a happy pop of color. It was made and given to me by the lovely Laura Brown who is an amazing artist here in Minneapolis. Thanks again, Laura!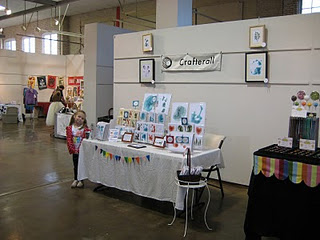 My favorite part of the day is all about that little monkey standing next to my table in the photo above. My Leah Bear hung out with me for the entire day, keeping me company, entertaining me with stories from school or pointing out interesting photos from her animal encyclopedia she brought along. She refilled sold items before their spot got cold, and kept a steady supply of business cards displayed on the table. She never complained once and fared very well considering we hardly ate anything and it was a very long day. I think she was even more excited than me every time I had a sale. I couldn't imagine a better booth buddy. :)
Next Saturday, The HandmadeMN Spring Market! Yes!