As an artist who's been chest deep in topographies for about two years now, I keep an eye open for other forms of artful topography or topography-like art. I've started a collection and I'm happy to share some of what I've found so far. Today's selections showcase the variety of substances in which artists have worked in some very tasty topographies, intentionally or implied.Paper and wood are children of the same source, more or less, as plant pulp, and so it's equally gratifying for me to find awesome pieces made of either material. Starting close to home, the very talented Charles Clary crafted this beauty and others like it using the same paper I use:
Microbial Triple Diddle Infestation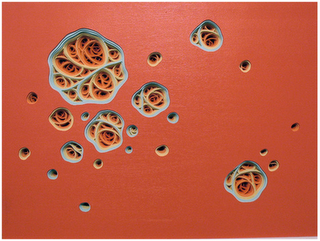 A closer look reveals these achingly awesome details, curves, lines, and depth. LOVE this stuff.
Microbial Triple Diddle Infestation (detail)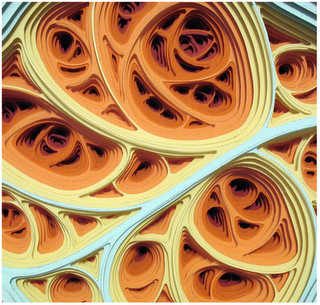 I've come across these lovely wooden pieces at a nearby mall kiosk and had to stop, ogle, and smile. I'm fairly certain that the brains and skill behind Lakes of Wood and I could have a nice chat with one another about technique and trials.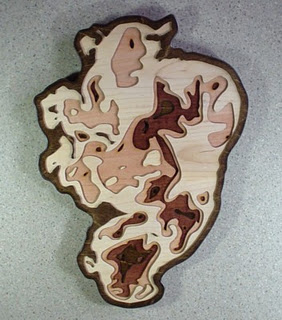 A while back, a visitor to my shop referred me to this impressive gallery of work done by Chris Yates. My head spins just looking at all those layers!
Eagle-Vail, Colorado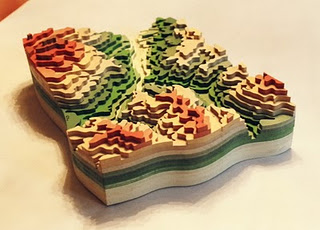 And then there is the medium of fabric. I toyed a bit with this already, having made topography pillows a while ago, but I'm just not good enough yet to make it economical. Instead, I'll drool over these yummies.
Purl (detail) by Amy Honchell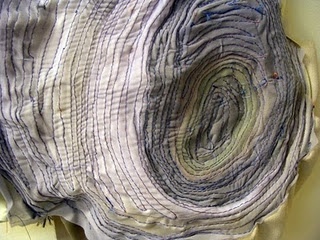 Project Runway alum , Etsy shop owner, and fabric layering guru, Leanne Marshall designed a lovely collection of topography inspired dresses. If I get mega rich and famous for my art, I'm calling Leanne for my red carpet dress.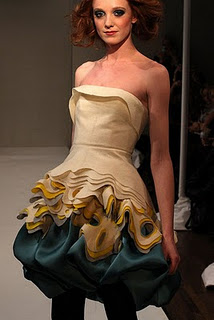 Perhaps my most favorite find is this A.MA.ZING concrete sink, created by the fine people of Gore Design Co. Their "erosion" sink is clever as all get out concept, and brilliant design. For the record, I have never so nearly swooned for a sink as I have for this. In the rich and famous daydream I mentioned above, I'm walking down that red carpet wielding this sink under one arm. It's that cool.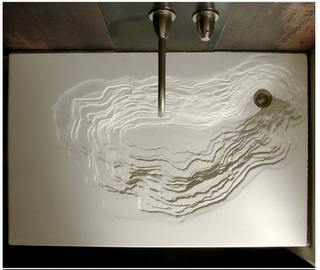 And while I'm swooning and daydreaming, I'll wrap myself in one of Leah Evan's impossibly gorgeous quilts, like this one:
Shoreline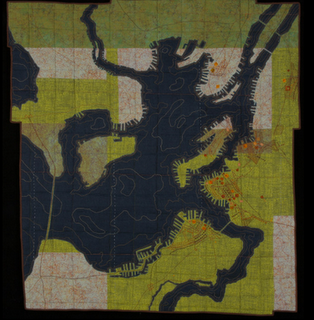 or this one: Dark Estuary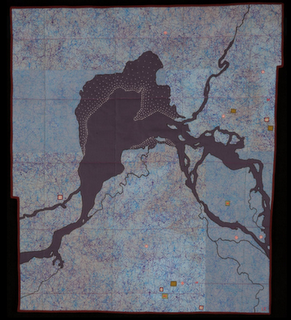 Eee Gads, they're amazing. I think I would cry if I ever saw one in person. Or laugh joyfully. Or both, like the now infamous Double Rainbow Guy.
I'm fairly certain that I'll compile another list of kick-ass topographic and map-inspired work again, but for now I'll close with a fun flickr find. I hope you enjoyed this little tour as much as I have.

The deranged topography of ice