The very first piece, back when it was "NEW"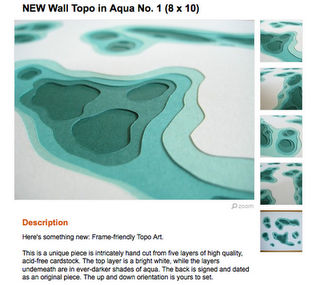 In November of 2008, I sold my first 8 x 10" Topography in Aqua piece. I was bolstered to create the larger, frame-able sized pieces based on the small and growing success of my new topography cards, and was just as surprised as anyone when these did well too.
Number 100 (detail)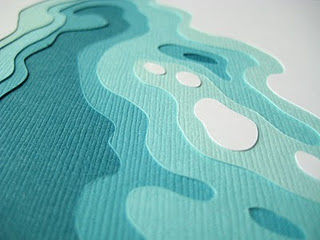 Just under two years later, I've cut my 100th version of these. There have been other aqua topographies in different sizes, and differently colored pieces as well. Each of these are numbered in their own sets. Looking at the older photos, it's fun to see the evolution of my work. The cardstock is different, my cutting is a bit more complex, and the descriptions are a bit more fleshed out, but the basic concept is still pretty much the same.
Number 100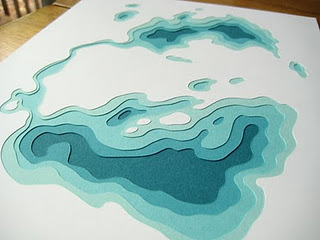 Thank you, dear readers and fans of the shop. Your encouragement and support has truly helped me reach this milestone. I can only image what all 100 of those pieces would look like stacked one atop another, or in a gallery, framed and hung in a line on a long, long wall. How cool would that be?! Here's to the next 100!