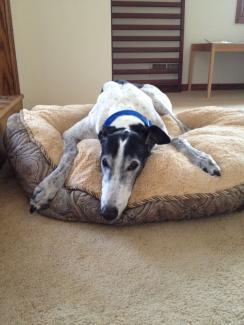 See that sad dog up there? That's Jack. He had a bad week last week. He was struggling to use his back legs, he bumped into doorways, he was really lethargic (well, way more so than a typical retired racer), and he "decorated" our carpets in three different rooms. A trip to the vet, some good meds, and lots of rest and care, and he's definitely on the mend. This can also be said for me, as I've been a wreck over his condition, and on the verge of tears nearly every half hour. At 13 and a half, it's really no wonder he's not sick more often, but this latest illness really hit hard, and I'm pleased to say that we've very nearly come out of it. One thing I've learned from this is that worrying is exhausting and taxing. Uffta!
While Jack's improved health has been an ongoing joy, I'm also thrilled to be looking forward to an amazing adventure that my husband and I are planning for this summer. To celebrate 10 years of marriage, to take a second honeymoon of sorts, and because both of us have been working our butts off lately, we have booked a European River Cruise along the Danube. I learned about river cruises through a sponser ad for "Downton Abbey" on PBS.org, and thought they looked pretty darn close to perfect. Matthew agreed, and within a few days, we booked a dream date.

See that ship? We'll be on that baby! I'm so excited, I could pee. 
Finally, I will have the Seattle piece, winner of last month's voting poll, completed this week, and I look forward to showing it off to you soon! I will have a February/March Voting Poll up soon for the next Lake of the Month poll, and, with your help, we'll go from there! 
Stay tuned. Keep your chin up. Pet your pet. And dream big.