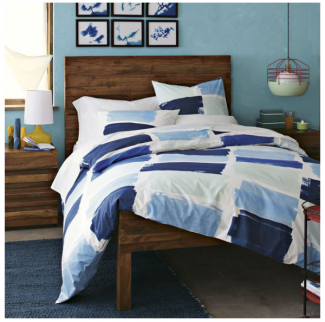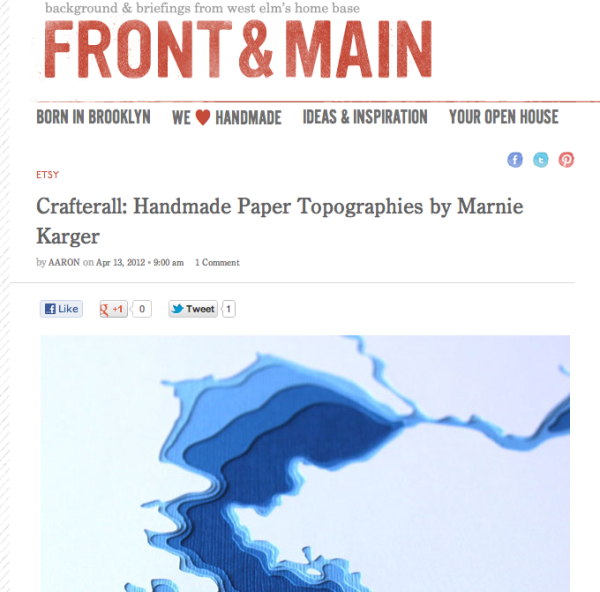 Today, Aaron over at the West Elm blog "Front & Main" officially featured my work and has all sorts of lovely things to say about it.
http://blog.westelm.com/2012/04/13/crafterall-handmade-paper-topographies-by-marnie-karger/
Although the catalog feature has been brewing for a few months, it's now in print and at hand, so I can do my happy dance in public and share the news! There, for all to see, are six pieces on the wall above the lovely Stria bed set. They include two San Francisco Bay pieces (on their sides!), The Great Lakes, The Apostle Islands, Madison Lakes, and our nearby beauty, Lake Minnetonka.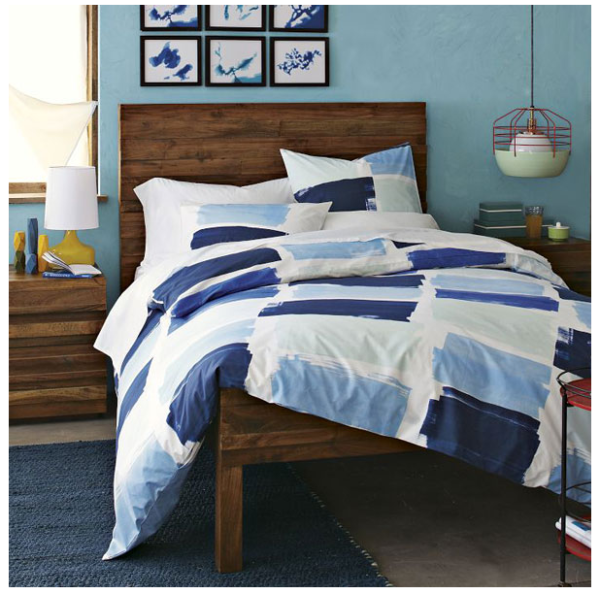 While I cannot honestly deny my bias toward this arrangement, I really do like this set! The style features uneven layers of wood for a striated look (striation -> Stria?) that evokes a sense of depth, carved land, and a natural earthiness. On top of that, the Stria bedroom set is partially constructed of reclaimed saal wood, which is pretty cool in my book. The denim blues have a nice, relaxed feel to them, too. Yeah, I could sleep here. :)
My thanks to the kind folks at Etsy and West Elm for partnering to feature independent artists and selecting my work to be included. And many thanks to all the sweethearts who have reported sightings of my work in the catalog, purchased works because of it, and who are helping to share the news. There's room on the happy dance floor for all of you!