For this week's post on "Now Playing in the Studio," I'd like to share my favorite podcasts with you. I have a mild addiction to and discerning taste for good podcasts. I like them on the longer side, well edited, filled with good news or information, and with a healthy sprinkling of laughs. There are a ka-gillion different podcasts floating around in available air and cyber space on nearly every topic, and in a number of different platforms for easy listening on a wide array of devices, so there's no good excuse for not tuning one in now and then. And I find that they make excellent "work companions" while I'm in the studio. Many of the podcasts I listen to and refer to here are actually streaming audio files from longer radio programs, and most of them are free, too!
Podcasts work best for me when I have mid-to-low challenging work to do. If I'm flipping back and forth between nautical maps and a custom piece I'm cutting, podcasts turn into background noise and I miss the point. But if I've got a stack of similar and familiar pieces to complete, bring on the geek! In no particular order, here are my favorite podcasts:

Radiolab: Hosts Jad Abumrad and Robert Krulwich lead listeners into mostly science-based topics that illuminate, educate and entertain through a well-edited sonic journey. They interview experts and key witnesses, they record the sounds and environments related to the topics, and, with his background in composition, Jad adds his own bits of audio flare to make each episode, full or short, a tasty meal of a show. I especially like how both hosts aren't afraid to interrupt some part of an interview or storytelling to check out a fact, or redefine a concept or term, and there's almost always a part of every show that makes me look something up, laugh, or get teary. At the end of each one, I am usually left wanting to share some tidbit with my husband, or just bask in the little glow of having learned something really neat about my world. I don't think there's a bad banana in the bunch, but here's a classic to get you started: Season 2 | Episode 2: Musical Language http://www.radiolab.org/2007/sep/24/

Wait, Wait, Don't Tell Me!: This is the NPR News Quiz show that stars a semi-regular panel of funny folks, asks current event questions, and is hosted by the clever and charming Peter Sagal. In addition to giving my abs a decent workout through full-out guffaws and long-lasting giggles, the show is not a bad source for global current event highlights. As a bonus, there are little segments in each show allowing for quick pause-breaks to run upstairs for another cup of coffee, or put the wash in the dryer.
"Wait, Wait" is on nearly every week with special guests, and they archive nicely too. Check out the fun here:http://www.npr.org/programs/wait-wait-dont-tell-me/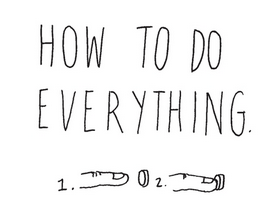 How To Do Everything: From the producers of "Wait, Wait" comes this goofy, bite-sized Podcast. Mike Danforth and Ian Chillag do their best to answer questions from everyday folks like yourselves and invent all sorts of challenges and contests along the way. I dig their humor, their fearlessness when addressing topics, and their clout that allows them to call in some pretty big names to help answer a question. Recently they aired an episode wherein they called up my all-time poetry hero, Ted Kooser, seeking expert help for a guy trying to write a love poem. I squealed.  The show is produced weekly on Thursdays, almost without fail. Past episodes are also available, so if you're new to the show, you've got loads of good stuff waiting for you. For more gut-busting fun, go to: http://howtodoeverything.org/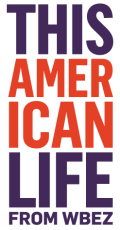 This American Life: You may already be a fan of This American Life and tune in religiously on the weekend when it's likely to air on public radio. Did you know they archive broadcasts online as well, and have a searchable database of shows? It's pretty slick. While I prefer the lighthearted shows as entertainment, the shows that dig deep into serious stuff stick with me for long after the show and are likely to make me probe the web for more information or pictures related to a story, and almost always make me want to share what I've heard. Each show is about an hour long and full of really good stories, told well, and put together by the inimitable Ira Glass. Tune in here: http://www.thisamericanlife.org/

Craftypod: The bad news is that there are only a few podcasts dedicated to crafting and making as a small business venture. Maybe it's because it's such a visual field and it's hard to convey ideas and images over the air, or maybe it's because all the crafty entrepreneurs out there are busting their behinds being crafty and running their businesses! The good news is that Diane Gilleland, or Sister Diane as she is known, takes on the task of producing a solid podcast that fills this niche market nicely. A few of the other podcasts on the topic aren't nearly as well edited, and the hosts aren't nearly as well-informed as Sister Diane always is. I find she tends to ask great questions of her guests and digs to find concrete answers to business questions too often softened by "fluffy" thoughts. Instead of spouting the "you gotta give 110% in everything you do" fluff so many people tweet or blog, Diane and her interview guests lay out, step-by-step guides for getting work done well. I sincerely appreciate her professionalism and expertise in this area. And, I cannot forget to mention that Diane enjoys a good laugh as well. I chuckle and nod in every episode, and view Sister Diane as a mentor in so many aspects of my own crafty business. She walks the talk and talks very well, too. With a mostly monthly schedule, each Craftypod podcast is a treat to savor. You can catch them here on the Craftypod blog: http://www.craftypod.com/
So that's the sort of stuff that goes into my ears while I'm working. How 'bout you? Any favorites you think I should try? I look forward to your recommendations. If you missed the last "Now Playing in the Studio" post, you can find it here: Now Playing in the Studio: Pandora