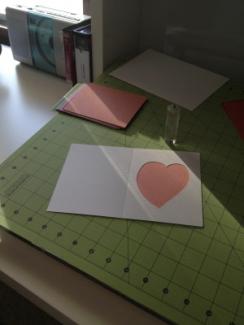 Happy 2013! And what better way to start anew than by moving my entire studio up two floors! Caution: this post is a rambling love story about my new work space. I'll warn you about my gushing, but I won't apologize for it, for this move has been a long time coming and has paid off in spades.
On the first of the year, a little after lunch time, I mused that all I really wanted was a window in my studio. So all four of us, kids included, clapped our hands once to finalize the agreement, and then spent much of the rest of the afternoon and evening dismantling and packing up everything that was in the second floor, rarely used guest room, and swapping it with the vastly more ginormous pile of everything that was in my basement craft studio. Phew!
Hauling boxes of paper, heavy-duty tables and shelving up two flights of stairs and not scraping everything along the walls is tough! And lugging a queen-size mattress and box spring down two flights of stairs isn't a walk in the park either. In fact, in one of the last moves of the night, we found that the box spring for the bed did NOT fit around the corner of the basement steps. We had thoughts of scrapping the box spring in favor of a slat base from Ikea, and even tried to add it to our existing bed to try out this zany idea we had for a really tall, "Royal" bed (fun for a laugh, not at all practical!), but ultimately, the box spring and the mattress found their way back home to my in-laws' house, and we brought the futon downstairs instead.
But I digress. The real story here is my new studio, and the main character of this story is the WINDOW! Whereas my basement studio held only a little 1 x 2' skinny escape window on the other side of the room, my new studio has two, side-by-side double hung beauties with a full view of the front yard. One of the first orders of business was to remove the old-school, hinged wooden shutters on the lower half of the windows. They're charming, sure, but there's no way I was going to block any light from coming into my new workspace! The curtain, a ruffled Roman blind disaster went soon thereafter. I kind of like the thought that a peeping tom or curious neighbor would chance to see me studiously cutting at my table in the wee hours of the night.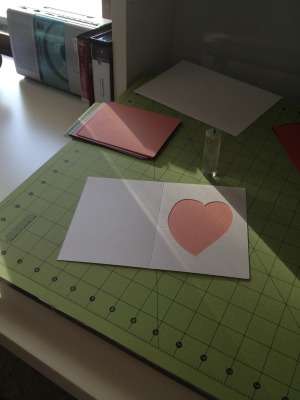 The room is still a rough draft of what I have in mind for this space, but already, it is a craftastic sanctuary. I delight in walking UP to my studio, coffee and coffee pot in hand. I relish cradling my warm mug as I watch the sky change color during these sleepy, early winter days. And I have literally gasped when I realized that, on certain, spectacularly sunny days,  I can cut without any artificial lighting. This is sooooo much better!