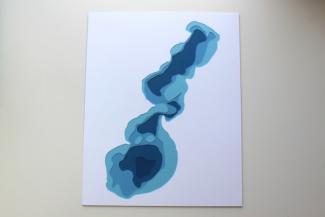 Oh, so much catching up to do! I've been busy, busy, busy with all sorts of lovely new pieces, and I want to share some of my favorites with you here, with more to come. All of these began as custom requests from people like you who wanted to capture a favorite place in layered paper goodness. And a few of these may well end up as regularly carried inventory in my shop as well. Check 'em out!
Just today, I finished cutting this lovely section of The Potomac River known as Occoquan Bay.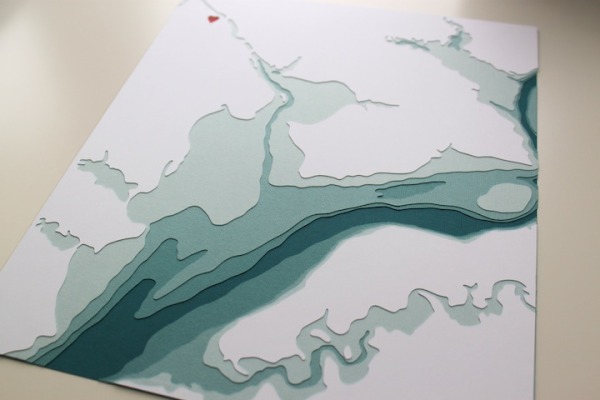 I love the way the land here is sliced by this snake-like river. I peeked a bit at Google Street View in the charming town of Occoquan, and it's made me yearn for a road trip out east. Doesn't this look idyllic?
I want to go to there. And buy expensive ice cream and ride in a quiet boat upstream, and then maybe take a nap in a hammock on someone's front porch.
Speaking of places to hang a hammock, have you heard of Staniel Cay? It's one of the tiny islands in the southeastern archipelago of the Bahamas called The Exumas. If you google it, you'll almost certainly run across photos of the pigs that live "wild" on the islands in this area. Apparently, the pigs arrived there at some point and currently thrive off hand offs from cruise ship tourists! The little snouters swim right up to your kayak expecting a treat.
For this piece, we used the most popular colorway for my Hawaiian Islands piece: Aqua water with Grass Green land.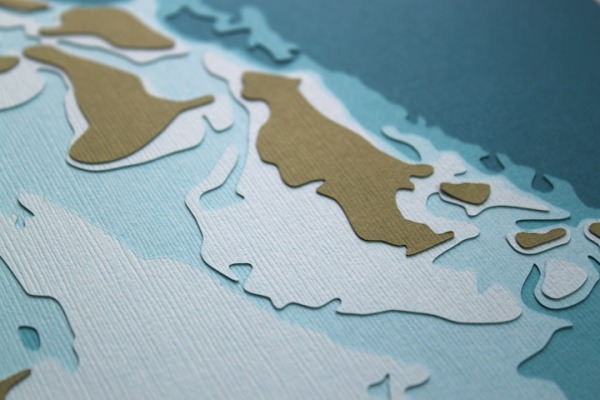 You can almost hear the seagulls, can't you? Or maybe that's the squealing of the pigs!
Dipping below the equator, I tackled Guanabara Bay, better known as the water adjacent to the city and state of Rio De Janeiro. With a recognizable contour and all sorts of details on and below the water's surface, this piece had a wonderful complexity, balanced by a solid white land layer around the bay.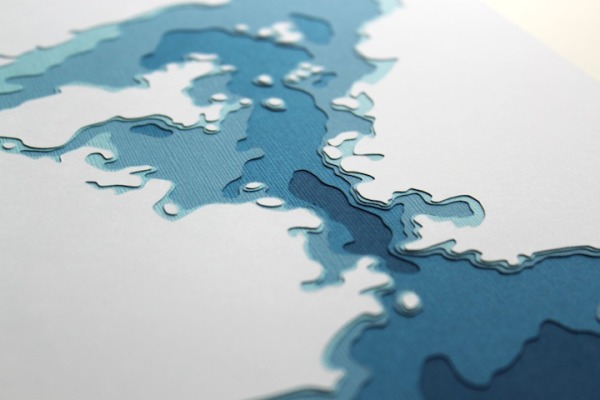 When I am asked to cut a Minnesota Lake (or Wisconsin or Michigan Lake) I am spoiled by the amount of data and the clarity of the maps I can pull from free, online sources. Thanks to anglers, conservationists, and federal funding, the state Department of Natural Resources has a wealth of bathymetric maps for public consumption. Looking for depth data elsewhere, especially outside the US, is usually a much harder task. Even Canada doesn't have or share much information on its bazillion lakes. So, finding depth data for Guanabara Bay was a little tricky, but I was able to work off of this map to find what I needed.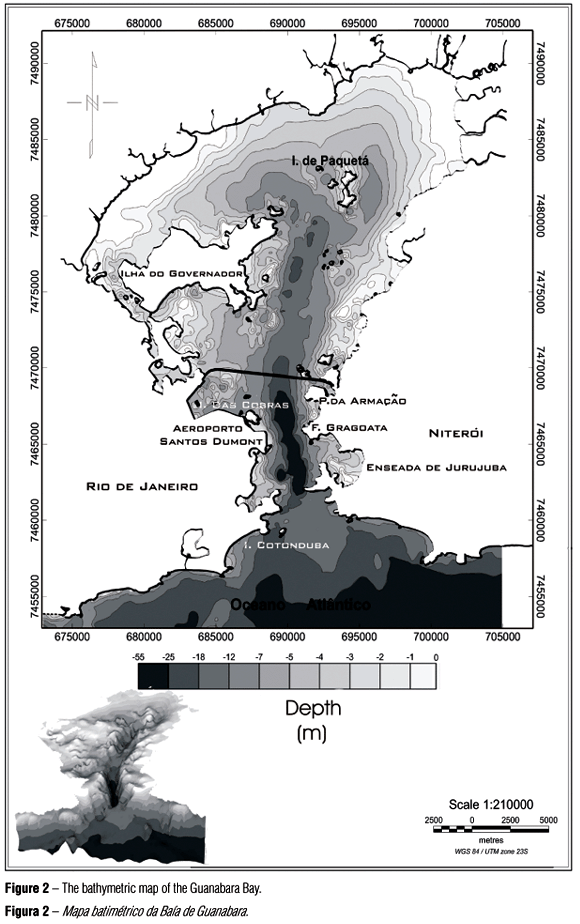 And I LOVE that little inset map on the bottom left. If we could empty out the Atlantic Ocean south of Brazil for a bit, the bay would resemble a canyon, and if you consider the above-water topography of that area, it would be an even more stunning sight to behold!
One more lovely for this post: a simple beauty of a smaller Midwest lake. This is Whitefish Lake, of Douglas County, WI, down State Highway 53 a ways, almost due south of Duluth.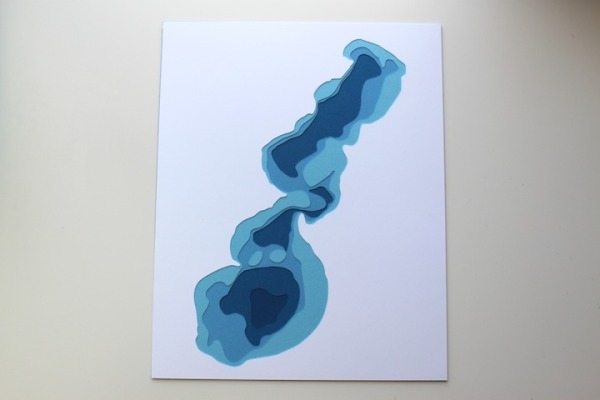 Now, Whitefish Lake may not be the most complicated lake, or the most popular lake, but it is special to the person who requested it, and I have a feeling they could easily trace their finger along the shoreline and tell you the names of the people who own the cabins that surround this lake. They may even be able to point to the part of the lake where they almost caught the biggest walleye of their life, or the part where you slow your motor so you don't disturb the nesting loons. Their cabin catches either a sleepy sunrise, or a yawning sunset, or a bit of both, and the lake is always there, always changing, and always theirs. 
It doesn't take a complicated subject to make a good subject. If you love it, you will love it, and that is all.