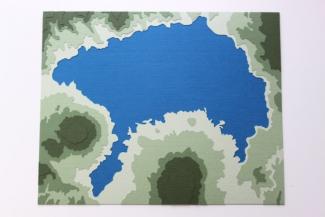 I've recently completed a custom piece of what German explorer Alexander von Humbolt called "the most beautiful lake in the world. " Lake Atitlan is a large, fully contained lake in Guatemala, and with a maximum depth over 1100 feet, it is the deepest lake in Central America. It is a breathtaking royal blue in color and sits high up in the Guatemalan highlands where the land supports lush flora and fauna. But what makes Lake Atitlan so remarkable is that it is shouldered within the peaks of three volcanoes, two of which are still active, sending plumes of smoke into the sky. Just Google this lake and see if you agree with heir von Humbolt. Here's one of my favorites from an image search: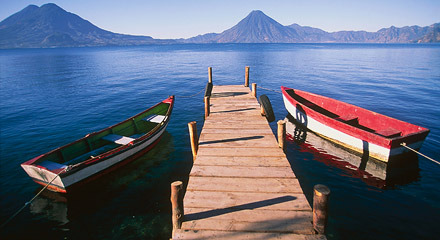 From lake-atitlan.com
So how best to capture this majestic beauty in a relatively flat work of art? This calls for some topography! The lake's silhouette is remarkable enough to stand on its own -- I think it looks a bit like a big fuzzy bear -- , but to honor the place, we really have to work the land as they main attribute. It took some digging, but we found a good map and turned it into a lovely piece, using five layers of grass greens for the land, and a dark shade of royal blue for the water.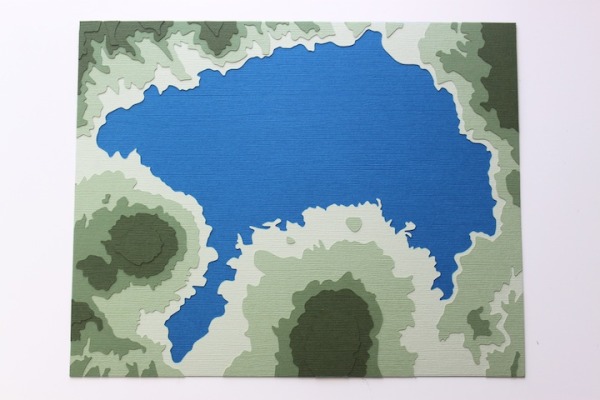 The wiki entry for this lake mentions a massive (7.5) amd deadly earthquake that rocked this area in 1976: "The earthquake fractured the lake bed causing subsurface drainage from the lake, allowing the water level to drop two meters within one month." Whoa. If there was ever a need for an extra large drain plug!