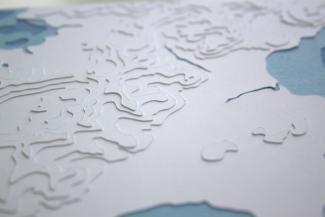 Today, I'm showing off a custom piece with an interesting twist. The subject matter is the lower end of Montague Island in the north Pacific Ocean. The island sits on the southwestern entrance to the Prince William Sound at the northern end of the Gulf of Alaska, about 80 miles due west from Seward. According to the wiki entry, Montague Island is the largest uninhabited island in the United States and home to 100+ pound fish, giving rise to the area's moniker: "Land of the Giants." Click here to see what a 350 pound halibut looks like.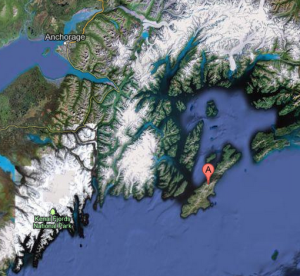 As you can see from the satellite image on the left, there's some serious topography in this area, and relatively little bathymetry. The islands sit on a shelf on the north end of the Gulf, before the big, spooky depths dig into the earth.
So the buyer wanted to capture some of each of these great depths and great heights, while still maintaining the overall silhouette of the end of the island. So we zoomed into the area we wanted and scored the web for good topographic imagery. The best we could find was somewhere between a colored gradient and zooming into Google's Terrain Map function.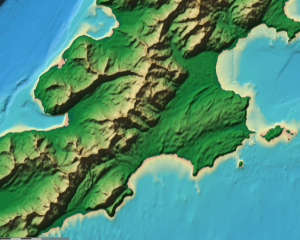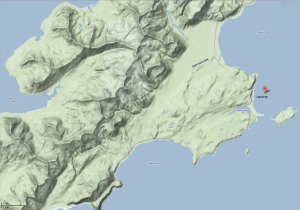 After many hours of detailed tracing, cutting, editing, and adhering, I'm quite proud of the finished product. It boasts a total of 9 layers, four in shades of Royal blue, and five in white. Seen from a distance, all you see is the abstract silhouette of the land against the blues, but up close, and especially at an angle, you can appreciate the details in the topographic layers as well. And yes, I do make a little airplane zooming noise when I scan a piece like this. aaAAAAaarrrrooommmm!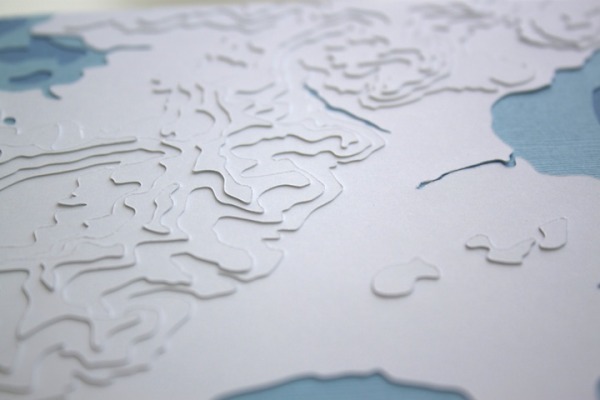 Thanks to Jessica for a great custom piece request, and for your patience while I worked out all those tricky details. What a beautiful part of the world to recreate in paper!