Over the weekend, I completed two custom pieces for two different people. Both were 12 x 12", both featured both water and topography, and both were fun and challenging to design and assemble, but that's about where the similarities end.
The first piece features the area where the Yellowstone River and Mill Creek meet in southern Montana, just north of Yellowstone National Park. To really grasp the contrast between the river valley in the middle with the mountains on either side, we decided to zoom out quite a bit from the river confluence, and the result was a scenic and complex 13-layered piece, done in dynamic shades of greens and browns, fading to lighter cream, rocky grey, and snowy white at the highest elevation. I'm grateful both for the buyer's decisive request to include more land in this piece, and for great maps available online for easy-to-read elevations. It was an additional treat to watch the piece "come alive" layer by layer as I put it together.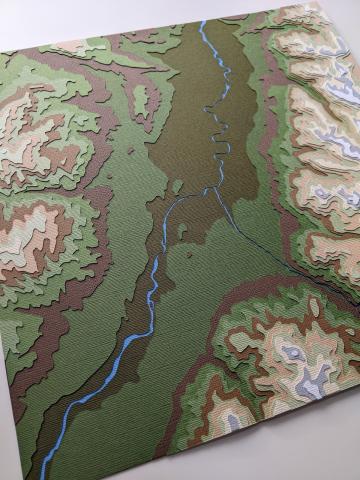 The second piece features an area that, to my knowledge, isn't yet available to the public. It's a recreation of a map drawn by a writer, working on a work of fiction, where the map shows at least a portion of the world he's building in that story. I loved this request for a bunch of reasons, one of the biggest being that I love poring over fantasy maps. Tolkien's map of Middle-earth may have been the first one I travelled with my eyes and imagination. Since then, there have been lots of other fantasy novels that include intricate or battered-looking maps printed on the endsheets, exquisite fan-art maps of stories, tales, and legends, and even fictional maps in manga and anime -- each of them serving equally as resources for navigating the setting of the story, as well as invitations to let my mind explore and wonder what exists beyond the boundaries of the map. The one I made was relatively simple, as many fictional maps are, but is still loaded with interesting features I could imagine playing almost character-like roles in key scenes in the story. Who lives here? Was this land uninhabited before, or was is stolen or conquered? How does the lay of the land factor into the movement of characters? How might this map look different at the end of the story? Fun stuff.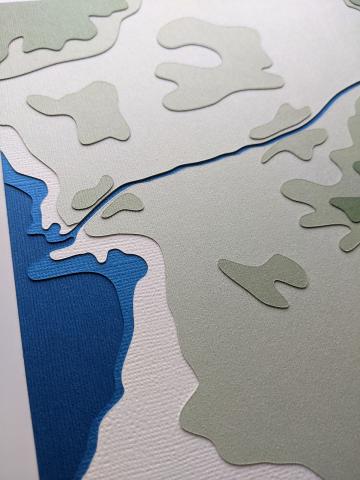 I'm so excited to send off both of these pieces to their new homes. I hope they bring each person at least some of the joy and wonder I felt while making them. Man, I love what I do.