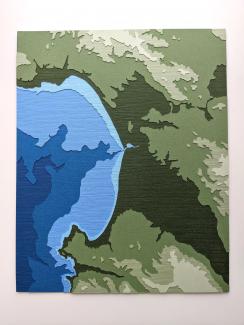 One my tasks this week was to fill a custom request for the beautiful Monterey Bay, California area. I created this 8-layer piece, comprised of four layers of tentacular ocean depths done in the Royal blue set, with 4 layers of land elevation in the full Grass green set. This will be joining two other 8-layer California pieces in the buyer's home: a San Francisco Bay piece and a Lake Tahoe piece (both of which are available in my shop) to create a triptych of trip-worth locations.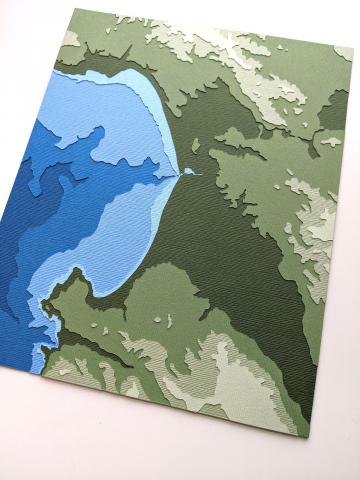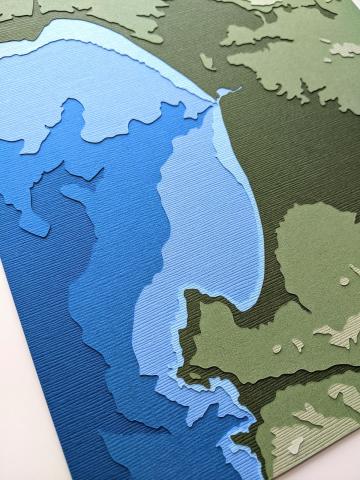 As I was finding good maps to use for this design, I realized how similar the general shape of the lowest elevation here is to the shape the of bay in San Francisco. They both have this sort of seahorse shape to them, with the "nose" pointing eastward. Do you see it, too?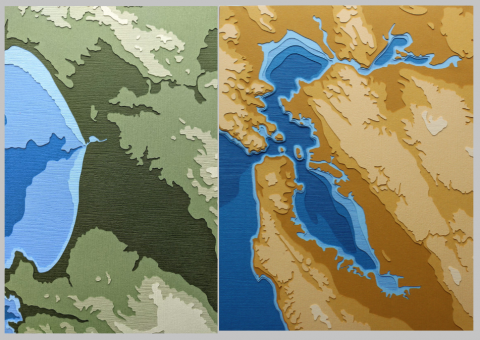 I'm not sure that there's anything scientifically significant about this -- probably more of a neat coincidence related to the fault lines and geology of the California coast. 
If I have some free time next week, I'll probably make a few more of these and pop 'em in the shop. This design was a nice balance of simple and complex shapes. I love how the smooth bathymetric lines and long, curve of the bay's shoreline meet the more chaotic and fingered lines of elevation on land.