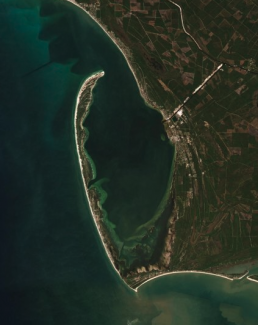 I recently completed a papercut design featuring the area around Cape San Blas, on the southern coast of the Florida Panhandle. I hadn't heard of this area before, and after finding it on the map, I could see its geographic significance as well as its tourist appeal. Cape San Blas is the "elbow" portion of the St. Joseph Peninsula, which juts into the Gulf of Mexico, looking something like its in a bicep curl contest with New Orleans.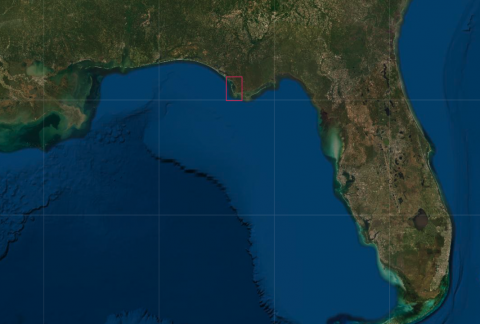 Like most of coastal Florida, this area is rich with the typical flora and fauna you find around the gulf, and is likely a lovely spot to vacation. When I was working on the design, I was flipping between a few different maps of the peninsula, and couldn't easily determine if the land was fully contiguous or if there was a break about halfway up. Most drawn maps showed not only an uninterrupted peninsula, but also a road (Cape San Blas/Cabin Road) that traveled the length of it. But Satellite imagery showed a breach in the land, with an inlet cutting through it directly to Saint Joseph Bay. Ooh, I thought. There's a story here.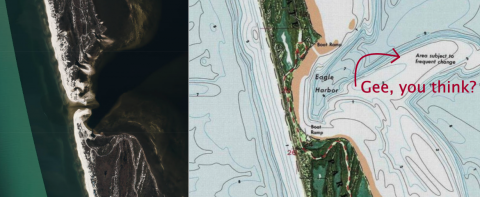 So I looked into some tourist info and hopped down a wiki rabbit hole, and learned some interesting things. Here's what I found:
The breach happened during Hurricane Michael in October, 2018. It has only recently been repaired, after public input and consideration for wildlife and land management issues.

St. Joseph Peninsula has been battered by winds, sea swells, and erosion since probably forever, and yet Floridians, supported by the US Government, continue to build on and develop these shifting sands. Most of the top results in a DuckDuckGo or Google search are for rental or real estate properties on the cape.

The Cape San Blas Lighthouse has been destroyed and reincarnated three times before being relocated on the mainland in Port St Joe. The first lighthouse existed only about 2 years before a gale knocked it down. The second lighthouse only existed a few months before a storm tore it to pieces! The third lighthouse was issued a one-two punch, first from the Union army's battering of the area during the Civil War, and the second from yet another tropical storm shortly thereafter, rendering the lighthouse more or less unusable after only about 20 years. The fourth and final lighthouse was a more simple "skeleton tower" of iron, and that's the structure that was eventually moved inland. I imagine that most vessels traveling around in the Gulf these days have more modern methods of making sure they don't run aground.

It's not that surprising, but there is a semi-scholarly magazine called Lighthouse Digest, dedicated to lighthouse architecture, preservation, and all the historical events in which a lighthouse has played a pivotal role.

There are 24 recorded names of Head Keepers of the Cape San Blas Lighthouse, most of them only serving a year or two in the hundred or so years that there was a keeper's house adjacent to the light.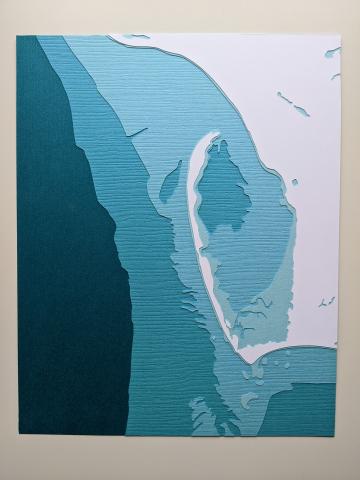 In case you were wondering, I ended up making the peninsula solid, with a skinny midsection to reflect the reconstructed road. From my searching, it seemed like the people of the Cape San Blas and St. Joseph Peninsula area were working hard to keep the land in place, nature be darned, so who was I to try otherwise? It did give me pause, though, to wonder about how many locations I have designed and cut that will change or disappear in the next 100 years. As land-tearing storms escalate in frequency and intensity, and as ocean levels rise due to global warming and climate change, shorelines will shift, islands will disappear, lowlands will become archipelagos, and stories of rebuilding and retreating inland will increase. I guess that my maps, like any maps, are really snapshots in time, subject to changes, natural or political.