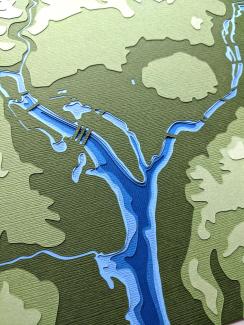 Oh, there's so much news to share. But that's not surprising given it's been a few months since my last blog post. Let's dive right in.
First, I've added a few more designs to the shop, including the lovely Washington, DC (with topography!) seen above, and the Mississippi sliding its way through Minneapolis below.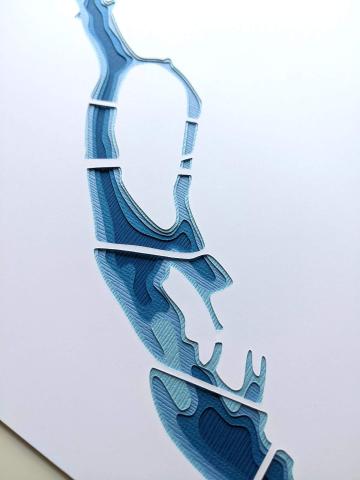 That one also looks particularly awesome in floated white layers like this.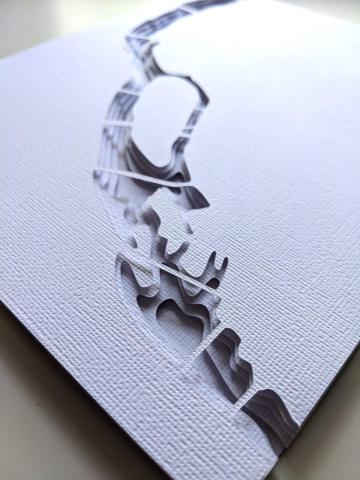 I also added the Bay of Fundy.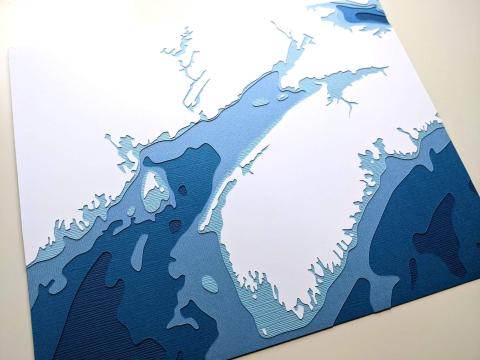 And the Gunflint and Magnetic Lakes combo up in the BWCA.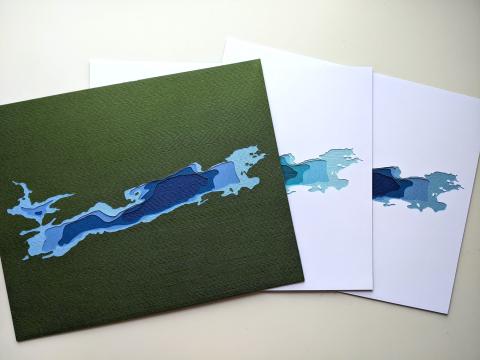 I've also been enjoying the challenges of some recent custom designs, including lots of topography, like this one that I finished today, featuring a small slice of the Wind River Range in western Wyoming. Look at all those layers!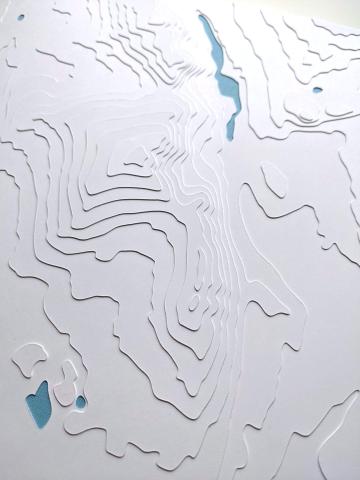 I also tackled the topography of West Dennis, Massachusetts, on the southern coast of Cape Cod.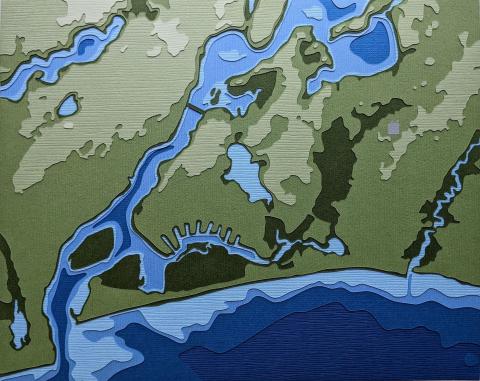 And I added some elevation to a wee lake in New Hampshire.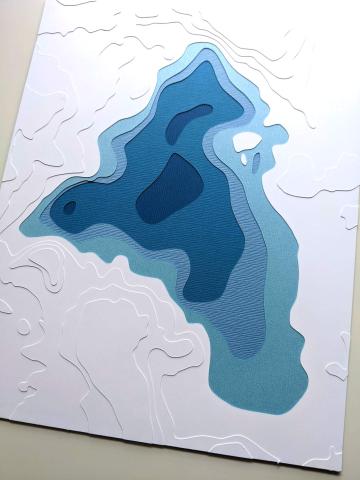 I also completed a piece highlighting Buzios, Brazil.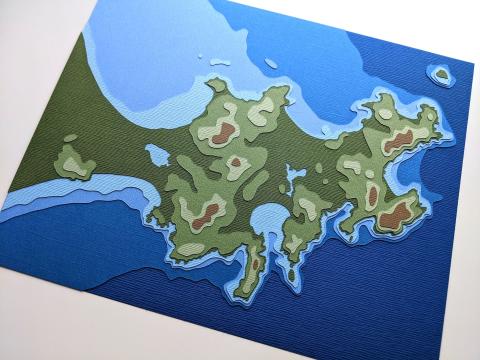 Finally, I made a non-topographic design of the enormous Tokyo Bay. The little circle marks a park where the buyer got engaged!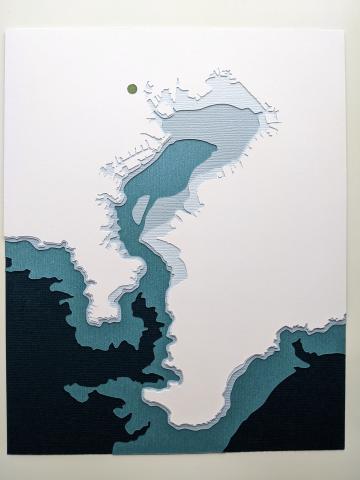 Since the last post, we had to purchase a new A/C unit and a new furnace, and we've been loving the ability to cool the house quickly these days, especially when the air quality has been so badly impacted by the terrible wildfires in Canada. While I did take photos of these new metallic beasts, they're not nearly as pretty as everything else here, so I'll leave them out. 
Outside my studio, sometimes literally, the most notable new thing since March is this guy right here. Meet Jasper.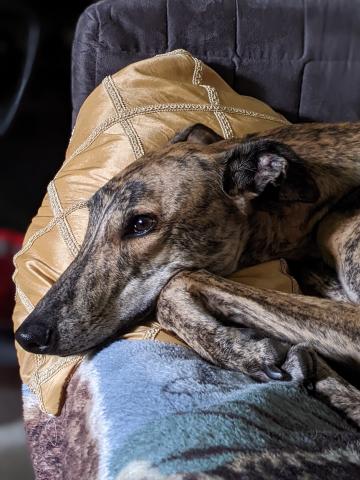 Jasper is an unregistered greyhound who was found as a stray in the Winona area. After a determined length of time, he was released from the dog pound and handed over to Minnesota Greyhound Rescue, where he showed up on our screens as one of their many available hounds. After our sweet Hugo bear passed in early February due to osteosarcoma in his right humerus, our home was quiet and dog-less for almost 2 months. Then, we couldn't resist. We welcomed Jasper into our hearts and he has very nearly taken over. 
While there's a lot we don't know about Jasper's past (stray greyhounds are pretty rare around here), we have learned a lot about him in these past 5 months. First, he's really smart. He understands commands quickly and seems to know what we're talking about, too. Here he is lying somewhat patiently near the spot where we make him sit before taking him on a walk. He wanted to go for a walk, and pulled his leash off the counter to make his wish absolutely clear.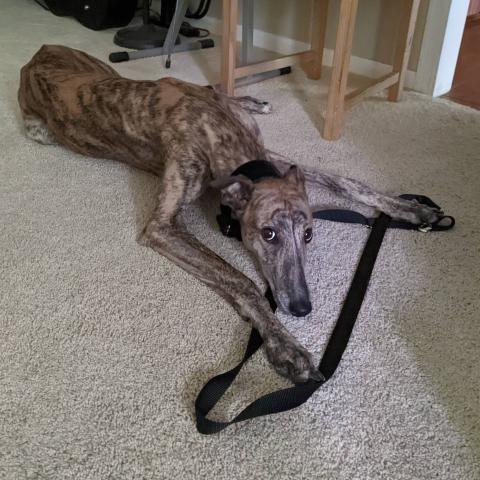 But, just because he understands a command, doesn't mean he will obey it. Which brings me to the next point -- he is very stubborn and strong-willed. The kids and I think maybe he was a prince in a former life, used to having everything his way, and people to entertain him at any hour of the day. This has caused some friction and tough times here and there, but we're making progress in teaching him his place in this family. These days, he's not afraid to entertain us!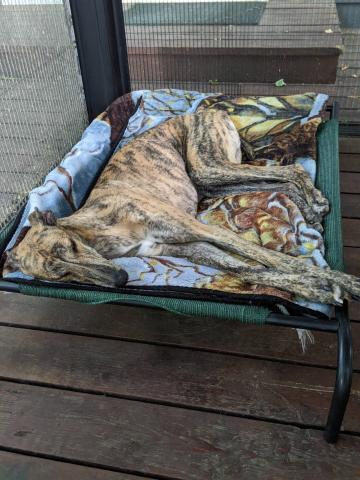 This last photo highlights one of the things that separates Jasper from any of the other 4 greyhounds we've had. He has SO MUCH ENERGY! We're used to having to rouse our 45 mph couch potatoes to do anything, but Jasper is ready and rarin' to do whatever pretty much whenever. This is a photo of one of the rare times he actually snoozed during the daytime. Although we don't know exactly how old he is, he's definitely a puppy, with puppy energy, puppy manners (or lack thereof), and puppy curiosity about this big, big world. 
He's also a very emotional and emotive soul. He is eager to show you how much he loves you (and you can be literally anyone), and he will howl and complain when you leave or if he simply can't get to you (like when we had to keep him out of a room we were painting). When he doesn't get what he wants, he tends to go straight into protest barking, and when he gets excited to play, he uses his mouth a bit too much (ouch! my arm!). But he's learning and we're learning, and every day is a little more peaceful than the one before. 
Jasper and I start obedience class together next month -- another first!
In case you're curious, Jasper's coloring is called Red Brindle, and he's event prettier in person. The brindle pattern is the most common coloring for greyhounds, but he's our first brindle. He's also missing about 13 inches of his tail! While at MNGR, he got a bad case of "happy tail" and had to have most of it amputated, poor guy. It's all good, though. Hugo's whip-like tail gave us all bruises at one time or another, and Jasper's definitely a wagger! And we can't wait until this dog flu eases up and we can bring him to the dog park to really stretch his legs.
So yeah! Between all of this, recording another 2 audiobooks (with one more in the works), taking Jasper for walks, and biking with my sweetheart, that's what's new here. Thanks for reading!