Thanks to my local Twitter contacts and some artsy friends, I heard about "Foot in the Door 4" with enough time to create and submit a piece for the event. The exhibit is produced and managed by the Minnesota Artists Exhibition Program as a subset of the Minneapolis Institute of Art. You can read all about it on their Web site, but basically the once-a-decade exhibit displays any and all submissions so long as each one fits within one square foot. It took me a while to get the play on words.
The whole family joined me on the day I submitted my work and we had to wait in line for about twenty minutes before passing my piece, a 5 x 7 topography in teal, to the capable hands of a curator. While we were waiting in line, a man was interviewing other artists about their work and why they thought this might be their big break. He didn't interview me, but I'm in the background a few times in this video!
We returned a few weeks later after the exhibit had opened and searched among the thousands of pieces for my work. I was bit disappointed that we weren't all entitled a full square or cubic foot, but rather that we were bunched to fit as efficiently on the wall as possible. It would have been nice to make use of that white space, but truthfully, had the curators arranged the pieces that way, the exhibit would have eaten up an entire wing of the institute.
Here are a few photos of our visit.
Entering the second floor of the new wing and being welcomed by the overflowing art!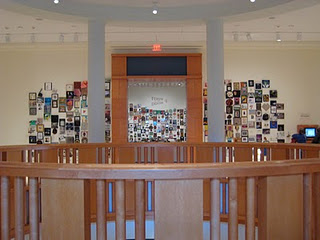 Finding the wall with my piece on it -- no easy task.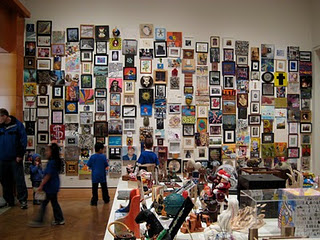 A closer look finds my work just above a photo of "Little Edie" Bouvier Beale at the Grey Gardens estate.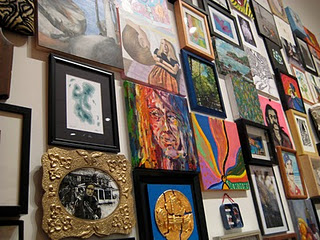 I was quite impressed with the caliber of talent and the variety of media used throughout the exhibit. Perhaps I expected more paint-by-number pieces or attempts at "anti-art" with pages torn from a notebook with the word "art" written on it. Instead, there were loads of fascinating, poignant, and downright beautiful works. I really should go back and take more time to take it all in.
Before leaving, my daughter requested I snap a photo of the gorgeous Chihuly piece hanging in the main lobby. She has affectionately dubbed it, the "flaming mac & cheese ball." It works for me.